A Resource for 3D Artists & Animators
Architectural Elements | Mechanical Devices
Furniture | Scene Accessories | Props
Buildings | Creatures | Plants
PROTOFEX 3D creates free and purchasable models suitable for
use in video, game and film applications as well as still images.
SALE! 60 % off Pro Models
Secure On-Line Store Coming Soon!
New Pro Model for October, 2004
Clint Eastwood and the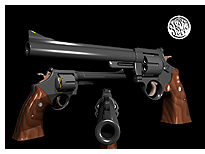 Warner Brothers film, Dirty Harry, made this Smith & Wesson firearm the most famous handgun in the world. Originally known simply as "The .44 Magnum", the S&W Model 29 with an 8 3/8" barrel became the most legendary and formidable crime stopper in the history of film making. It also has enjoyed immense popularity among handgun hunters and silhouette target competitors throughout the United States. Although now only made in stainless steel, the original carbon steel version is the model that is etched in the hearts and minds over movie lovers everywhere.
PROTOFEX proudly presents the 3D version of the S&W Model 29.
(Model 29 is a registered trade mark of Smith & Wesson.)
Site Hosting by ArcByte, Inc.